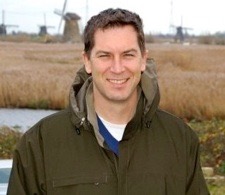 Robert Dittmar is a Professor in the Finance Area at the Stephen M. Ross School of Business at the University of Michigan.  His research centers on empirical and theoretical topics in the pricing of fixed income and equity securities.  His research has been published in the Journal of Finance, Journal of Financial Economics, Review of Financial Studies, and Journal of Econometrics.
Robert received his Ph.D. in Finance from the Kenan-Flagler Business School at the University of North Carolina Chapel Hill in 2000.  He also holds a B.S. in Finance from the University of Illinois at Champaign-Urbana.  Past experience includes a position as Assistant Professor at the Kelley School of Business, Indiana University and work as a financial analyst at First Chicago (now JP Morgan Chase) and First Union (since acquired by Wachovia and Wells Fargo).
He spends his free time in futile training for summer triathlons, slowly swimming, biking, and running around Southeast Michigan.  He recovers with the help of his wife, Amy Dittmar, kids Abby and Graham, and their Newfoundland, Terra.
For Robert's current C.V. please click here